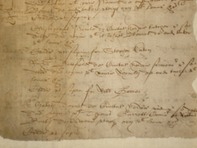 My work on inn-venues in Norwich 1538-1642 began with a research assistantship at the Records of Early English Drama (REED) project. I became particularly interested in the inns used by patronized companies when they were touring to Norwich from mid-sixteenth century on. The layout, ownership, and performance histories of the Red Lion and the White Horse suggest that they were central to a thriving entertainment industry, largely supported by local business and government interests.
Presentations and Publications
Articles
"The Red Lion and the White Horse, Norwich: Inns Used by Patronized Performers in Norwich, 1583-1624." Early Theatre 10.1 (2007). 109-44. Print and Web. 
Web Resources
Contributor: Norwich Venues. Patrons and Performances Web Site. Records of Early English Drama (REED). University of Toronto Library, 2011. Web. link.library.utoronto.ca/reed/. 
Conference Presentations
"Norwich: A Theatrical Topography." Paper: Medieval and Renaissance Dramatic Society, International Medieval Congress, Leeds, July 2005.
Guest Lecturer. "Performance venues in Norwich, 1540-1642." Friday workshop series. Centre for Reformation and Renaissance Studies, University of Toronto, May 2005.